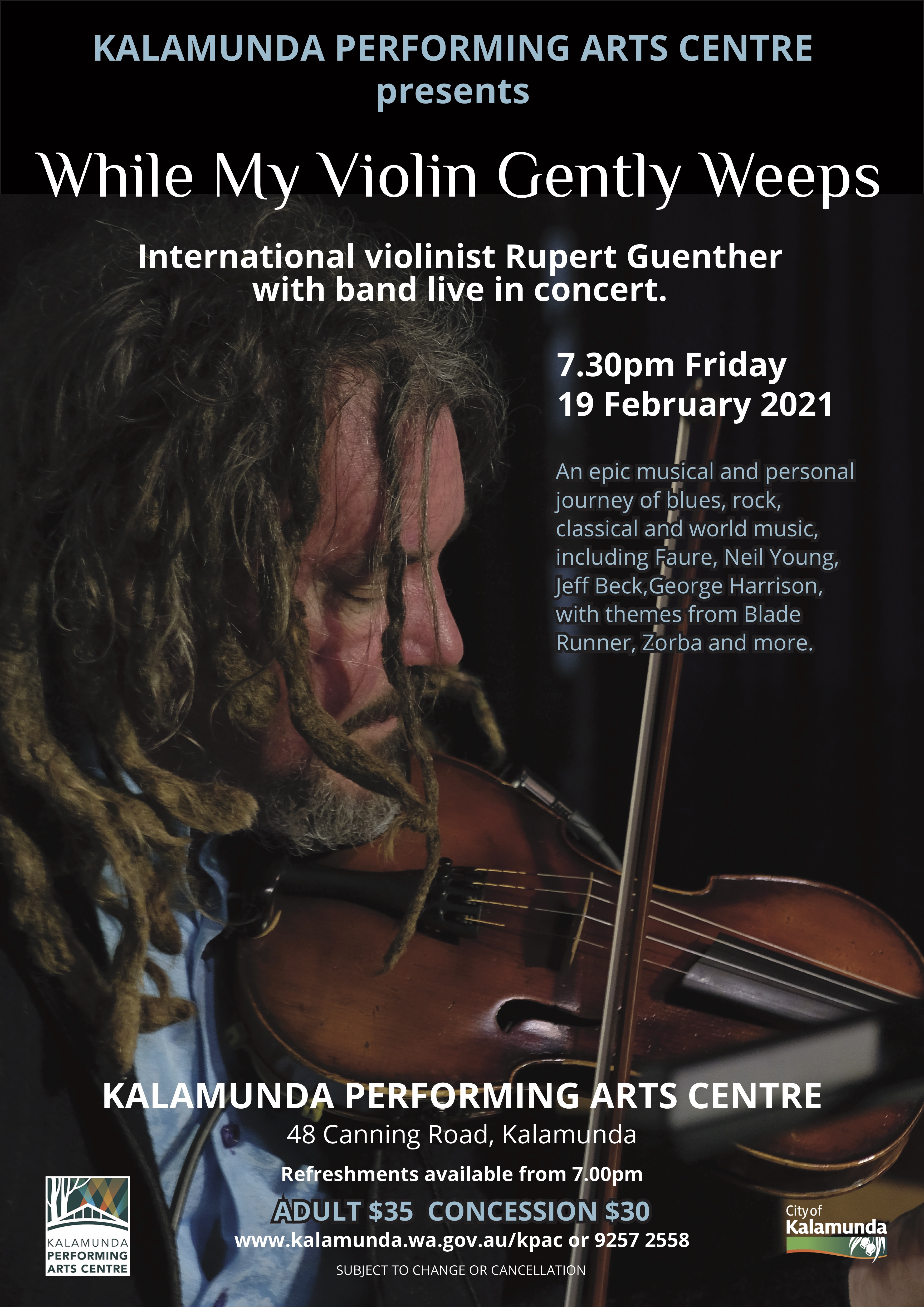 Friday 19 February 2021
"While My Violin Gently Weeps"
KALAMUNDA PERFORMING ARTS CENTRE
"While My Violin Gently Weeps" is a concert featuring electric violinist Rupert Guenther in an amazing range of inspiring music and extraordinary stories at Kalamunda Performing Arts Centre on Friday 19 February at 7.30 pm.
Presenting his original music spanning over nearly three decades, Rupert takes us on a journey through the magic of classical, blues, rock and world music sounds. It also includes selected music by other artists who inspired his individual journey.
Wednesday 10 March 2021
"Under The Milky Way"
QUARRY AMPHITHEATRE
Come along with your friends or family and enjoy a night of live music under the stars, at the Quarry Amphitheatre.
Under the Milky WayUnder the Milky Way is an all-ages musical bonanza bringing to life classic rock favourites. You'll be singing along to "Shallow" by Lady Gaga and Bradley Cooper (from "A Star Is Born"), "Africa" by Toto, "Creep" by Radiohead, plus epic songs by Pink Floyd, AC/DC and many more, all set in a vibrant outdoor amphitheatre.
The Love Finders Band is a group of friends who love the music they play and share it from the heart. Their songs invite you on a rich journey of remembering, feeling and bopping in your seats. Performing as a 7-piece with an elaborate and playful light show, the band has been performing quality live music in Western Australia for years, some with extensive experience working with the stars in Australia and overseas.
Bring a picnic or enjoy some refreshments from the Quarry Amphitheatre's café.
If you wish to experience the love in technicolour, this is your chance.
Wednesday 10 March 2021
"From Beehoven to the Blues"
DON RUSSELL PERFORMING ARTS CENTRE
A fascinating journey through the history of the blues, with international electric violin virtuoso Rupert Guenther on stage with The Love Finders Blues Band. This show is an uplifting concert of all sorts of blues music, from quiet acoustic Mississippi country blues to hard edged urban Chicago blues, and includes songs from Muddy Waters, Howling Wolf, John Lee Hooker and much more. This show is interwoven with the history and personal stories of the music and the musicians, told in an entertaining and highly personal style. More than just music!
Morning Tea at 10:15am, performance at 11am.